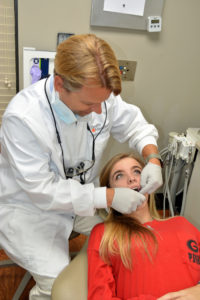 We are a full-service general dentistry practice specializing in preventative oral hygiene, cosmetic dentistry and more for the whole family.
Our services include:
Preventative Oral Hygiene, which includes fluoride treatments, routine radiographs, sealants, prophylaxis and scaling, periodontal maintenance, and oral hygiene instruction.
Implant Services, including crowns, bridges, and the use of implants to support partials and bridges.
Growth and Development Counseling for your children
General Restorative Dentistry, including tooth-colored fillings, porcelain, state-of-the-art aesthetic crowns and bridges using the latest materials and techniques, removable (traditional and precision) prosthetics, and implant crowns.
TMJ (clenching and grinding) appliances
Dental specialties such as periodontal deep scaling and minor surgery, endodontic (root canal) care, oral surgery, and minor orthodontics with removable appliances.
Cosmetic Dentistry, including the highest quality porcelain veneers, all forms of chairside bonding, contouring of anterior teeth, and bleaching and whitening.