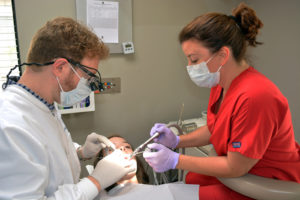 We are proud of our dental team! With a strong patient-care focus, we strive for personal attention and trust.
Our doctors take time to explain how your dental health can play a role in your overall health. A personalized treatment plan will be formulated to keep your best interests in mind. We feel strongly that communication is the greatest tool for a trusting and lasting doctor/patient relationship.
Our wonderful hygienists, many of whom have been with our practice since its inception, maintain a high-level quality of care through continuing education. They are x-ray and C.P.R. certified.
Our friendly and well-trained dental assistants comply with all OSHA standards and practices. They, like our hygienists, are x-ray and C.P.R. certified.
Our front office team is friendly, knowledgeable, and willing to answer any questions regarding insurance and appointments.
We hold ourselves to the highest standards for patient care, customer service, and satisfaction.