Christopher H. Smith, D.M.D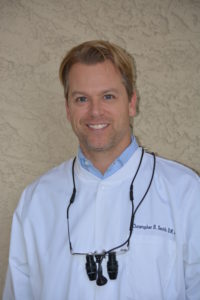 Dr. Christopher Smith grew up in Roswell, Georgia. He attended Clemson University, graduating with a degree in Financial Management in 1998, and graduated from the Medical College of Georgia School of Dentistry in 2003.
After graduating from dental school, Dr. Smith joined the practice that his father, Dr. Robert H. Smith, founded in 1979. Since then, he has committed to staying abreast of the latest techniques and materials through his dedication to continuing education. He is part of the first group of one of the nation's most respected study clubs, The Spear Study Group, where for the last 10 years Dr. Smith has attended monthly meetings to discuss complex patient treatment plans and learned about the latest techniques in dentistry. He is also a current member of the Southwest Georgia Study Club.
Committed to community service, Dr. Smith serves on the board of directors of the Good Samaritan Health Clinic of Cobb, which serves the needs of the working poor by providing quality Medical, Dental, Pharmacy, and counseling services. He was also a past member of the Roswell Rotary Club.
Dr. Smith is dedicated to providing the highest quality treatment to his patients with a caring and honest philosophy. He and his wife, Jaydee, live in Marietta with their 2 children, Abney and Austin. He enjoys fishing, running, hunting, and coaching his son's soccer team.
Van P. Rockefeller, D.M.D.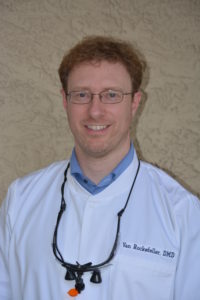 Originally from Indiana, Dr. Van Rockefeller has lived in Georgia for over 10 years with his wife, Mireddy. Dr. Van and his wife welcomed their daughter Emlee in 2015, and son Eiden in 2018.
Dr. Van completed his pre-doctoral training at Indiana University receiving degrees in Physical Therapy and an MBA in Finance with a focus in healthcare, and then went on to receive his Doctorate of Dental Medicine from The Dental College of Georgia at Augusta University.   He completed an Advanced Education in General Dentistry Residency at The Dental College of Georgia where he received advanced training in implant dentistry, dentoalveolar surgery, intravenous sedation, and medically complex patients.
Dr. Van has extensive medical experience. He worked at a Level I Trauma Center in Indianapolis treating patients with wounds and burns as well as patients with orthopaedic concerns. He also served as Adjunct Faculty for the Indiana University Physical Therapy Program. After moving to Georgia in 2007, Dr. Van co-owned a physical therapy office in Marietta for several years.
Dr. Van is a proud member of American Dental Association, Georgia Dental Association, Academy of General Dentistry. He is involved with the Seattle Study Group, and the Hinman Dental Society, and is on staff with the Dental College of Georgia at Augusta University.
In his spare time, Dr. Van enjoys traveling, reading, skiing, snowboarding, surfing, and being outdoors.